Psychotherapy, or counseling is offered in many different modalities. I provide an eclectic approach to counseling.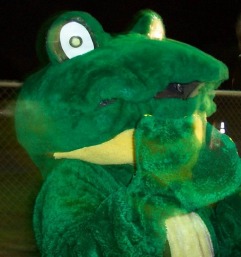 Sandy in her favorite outfit.
I am not good at looking serious, nodding my head and saying " I see, what makes you feel that way?" Therefore, I am more directive than the "blank slate" most therapist are trained to be. I will try to help you find the best path for your lifestyle.I use solution-focused approach to facilitate a dynamic atmosphere of hope so that you and your family may set new goals and find your answers. I find humor and just "being real" can help most people to open up and find the areas they need to work on.

I am considered by some to be a "frog nut". To me, frogs are like each of us, uniquely and wonderfully made. They have their own personality and their own journey to discover. Anyone fortunate enough to be helping them on their path, is to be blessed by them.

I am an animal lover, so I provide therapy pets in the office for your wellbeing and mine.

---
Tippy

Tippy is at House of Wellness on a daily basis and provides excellent entertainment and companionship. Tippy is a rehomed Quaker Parrot. Quakers bond with one person for life, so he may not be overly friendly to you and fingers are fair game! One might say that Tippy is a tip off the old block!

---

Hours of operation: MON. - FRI. 8AM-4PM
Phone: (863) 453-4161 Emergency (863) 414-0831

Jigster

Jigster, my granddog, son of the late Redman, is a gentle Red Nosed Pitbull who visits upon special request. He helps by preventing dog phobias and welcomes all children with wet kisses!

---

Fire Belly Toads Tank

The frogs in the aquarium are poisonous (only if you lick them). They are Fire Belly Toads. Most people cannot find all the frogs in the aquarium at one time. The aquarium also contains minnows and crickets for their dining pleasure.

---
Enough about the pets! What else do I need to know?
Please come fragrance free to your appointment for your health and mine, because like my frog friends I'm chemically sensitive.The counseling fees are $150.00 per 50 minute session. I am a provider for most insurance plans including Medicare, Tricare, Cigna and Blue Cross/Blue Shield. Appointments are available with minimal waiting time. Come by our office, and take a tour. I hope you find it inviting and peaceful. I try to provide a comfortable space to sit down and discuss your concerns. If I don't come out to greet you, one of our therapy pets will! There is usually no receptionist on duty, so paperwork will be on the table in the lobby for you to complete. If your thristy help yourself to some cold water or tea in the kitchen.Please note IADC therapy is not covered by most insurances. Fees for IADC therapy may be different than listed here and need to be discussed prior to your appointment.
House of Wellness, Sandy Billings, LCSW, Inc., 930 W. Main St., Avon Park, Fl. 33825 (863) 453-4161